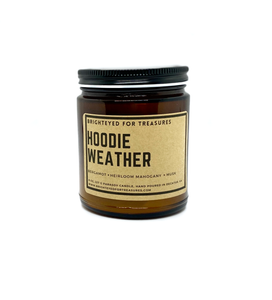 Embrace the essence of comfort with our "Hoodie Weather" candle. This fragrance,  captures the feeling of slipping into your favorite, well-worn flannel shirt on a crisp autumn day. The warm blend of bergamot and mahogany sets the stage, evoking the familiar coziness of your go-to hoodie.
At its heart, the robust notes of mahogany infuse the air with a sense of rustic sophistication. The delicate veil of musk adds a subtle depth, enveloping you in an embrace of pure comfort and tranquility
Candle Care: Never leave a burning candle unattended. Always remember to trim your wick for the best possible burn and to avoid soot. This will also burn your candle faster.

Customer Reviews
10/02/2021
Samantha S.

United States
Wonderful
Love fall scents
12/27/2020
Dana G.

United States
I Love It
I was a little skeptical since I've never purchased a candle I haven't smelled before, and this one being one of the only ones that wasn't out of stock had me a little worried, But this was great! I'll purchase another for sure!
12/05/2020
Rebecca C.

United States
Coziest Candle
This candle is like being wrapped up in your favorite blanket right out of the dryer while sitting on your porch with a nice late fall/early winter crisp breeze. This candle has it all!