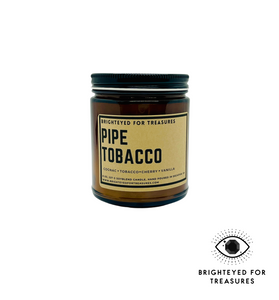 Immerse yourself in the rich and sophisticated aroma of our Pipe Tobacco candle. The scent features a top note of cognac, a middle note of tobacco and cherry, and a bottom note of sweet vanilla. Light this candle and bask in the warm, inviting aroma of a freshly lit pipe. Perfect for adding a touch of elegance to any room.
Scent Profile
Top – Cognac

Middle – Tobacco, Cherry

Bottom – Vanilla
Candle Care: Never leave a burning candle unattended. Always remember to trim your wick for the best possible burn and to avoid soot. This will also burn your candle faster.