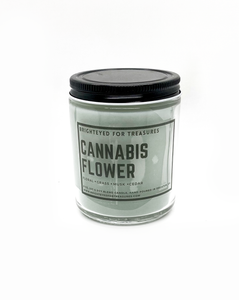 Get a whiff of the great outdoors with our Cannabis Flower Candle. The perfect combination of scents will transport you to a field of fresh blooms. Top notes of Floral create a delicate and fragrant atmosphere, while Middle notes of Grass add a touch of nature. Sink into the warm embrace of Bottom notes of Musk and Cedar, creating a cozy and relaxing environment. Light up the Cannabis Flower Candle and let the natural scents fill your home.
Formerly known as Mother Earth
8oz. Soy Blend hand-poured candle
Candle Care: Never leave a burning candle unattended. Always remember to trim your wick for the best possible burn and to avoid soot. This will also burn your candle faster.